#5: Cool-climate oceanside
A common misconception; niches, #ThisHorribleWorld, 🦆; Woo—and a podcast.
Hello, I'm Vaughn Tan. This is my weekly newsletter about uncertainty in daily and organizational life—and other things. Ideas may be only partially baked. If someone forwarded you this email, you could click here to subscribe to The Uncertainty Mindset. Otherwise, read on.
---
A common misconception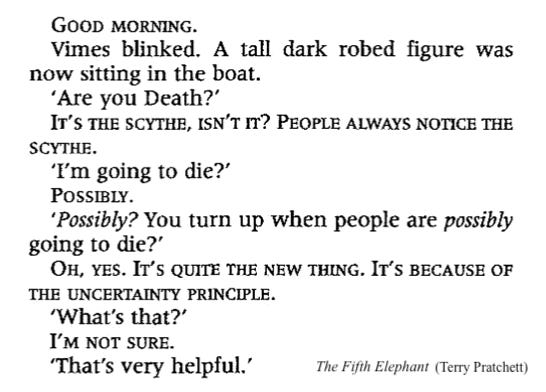 When I mention that I'm working on understanding the uncertainty mindset, 10% of the time the response is, "I'm not sure." It's all very diverting. But this reaction conceals a deep misunderstanding of what the uncertainty mindset is.
The uncertainty mindset ≠ being uncertain
Being unsure or uncertain is a state; the uncertainty mindset transcends states. There are at least three reasons to be in a state of uncertainty:
You lack information you need to make a decision.

You have information but cannot interpret it.

You have interpreted the information but cannot value it.
In contrast, the only requirement of having the uncertainty mindset is that you acknowledge that the world and the future are both uncertain—that you cannot know them completely and in advance.
You believe that things may change, possibly unpredictably, but this doesn't mean you necessarily exist in a continual state of uncertainty. It only means that you are, in principle, open to new information. Someone with the uncertainty mindset might be certain or uncertain at any given moment, but will be on the lookout for new and potentially relevant information regardless.
Acting intentionally requires a theory of causality—a belief that doing a particular thing will result in a particular action. Being uncertain while having a risk mindset can impede intentional action and be paralyzing. The uncertainty mindset is important in an actually uncertain world because it allows people to act without the belief that things are knowable or predictable—which can be disastrous if they are actually neither fully knowable nor predictable.
Having the uncertainty mindset is ultimately a realist position (if you believe that the world is becoming more complex and uncertain), but it is also beneficial in creating possibilities for action.
Ways of thinking
Mindsets are patterned ways of thinking; in brief, they consist of the assumptions you make, what you choose to pay attention to, and how you interpret the information you take in. Mindsets frame our perception of the world and thus influence the actions we take—this is true both for individuals and organizations.
There are many different possible mindsets, each with a different emphasis. My emerging conception of the uncertainty mindset is:
Assumptions: Things can and will change. Old ways of doing things may be good, but aren't necessarily so. The nature and frequency of change may be unpredictable.

Attention: Keep watch for changes in the internal and external environment, as well as for new information and perspectives.

Interpretation: Change may be uncomfortable but provides an opportunity for growth and development.
The uncertainty mindset doesn't preclude having a perspective or point of view—what it does is conceive of that perspective as a prior (in the Bayesian sense) that can and will be updated (vs a perspective that is inherently stable), and focuses attention on recognizing when update is needed and finding information needed for that update process (vs focusing on exploiting the current state). Most importantly, it conceives of the updating process as uncomfortable but beneficial (vs uncomfortable and to be avoided). These three aspects of the uncertainty mindset support each other; I'm not sure they can be separated.
Living the uncertainty mindset
Having the uncertainty mindset is a cognitive choice with affective and social implications. In other words, you can decide rationally to have the uncertainty mindset—but be ready for it to be emotionally and socially uncomfortable.
Logically, the uncertainty mindset leads people to be less single-minded and monolithic in how they invest their effort. It also means they are more likely to invest in having a wide range of skills and interests, keeping multiple options open, always having a reserve to fall back on in case things change unpredictably, and pursuing options which open up possibilities. They not only prepare for things to change but proactively act to change things unpredictably.
As a result, those with the uncertainty mindset are less likely to be conventionally successful or to have conventionally legible careers. Here's an example: I was at a gathering this week where nearly everyone was from one or another creative industry (fashion, photography, that kind of thing). In the course of the evening, someone mentioned planning to resign soon from her current, very secure, well-paid job to figure out what her next career move would be. The response to this was "How can you think about quitting without lining up a new job first?"
This reaction manifests the human instinct to recoil from insecurity. This fear of insecurity and uncertainty creates a social and interactional environment that makes it hard to choose and live the uncertainty mindset.
[half-baked] Leading with the uncertainty mindset
Last week, four readers wrote in; one with a comment and the other three with questions about uncertainty in the context of leadership and management. First, the comment:
[Name redacted (a restaurant manager)] used to tell me her job could require her, in the course of several hours, to navigate plumbing, broken computer terminals, and a wide range of staff (no English to English majors—guess who typically had the better work ethic?) and then interact with foreign dignitaries. Who may or may not like their pasta. 
It's fashionable in some circles to imagine that fast-moving technology businesses are constantly confronted with uncertainty while more "traditional" businesses are not. This is bullshit: Most real work is filled with uncertainty.
The question, very apropos, was: How should leaders manage given inescapable uncertainty?
The answer could fill many books, so I'll content myself with a partial response. The conventional view is that the leader's task is to absorb uncertainty and insulate it from his/her employees. Most often, this seems to involve lying to employees about how much uncertainty there actually is on the assumption that they cannot handle it. (Recent example: how WeWork executives communicated the company's financial and strategy situation pre-meltdown.)
Instead—here's a radical thought—spread the load. Train employees to first recognize, then handle uncertainty themselves. In other words, train them to each develop the uncertainty mindset.
Begin by modeling the behavior in public, and—this is important—articulating it and exemplifying it in how you manage. This can be as simple as saying things like:
"Let's plan on doing this but have a check-in in a few weeks about whether it is working as we expected" (vs "When will you have the project finished?"),

"Spend 10% of your time each week trying to find good reasons not to do this and let's talk about it in a month" (vs "I want you spend 100% of your time on this until we ship"),

"We'll have to change how we work on this. It'll really suck but we'll come out of it having learned how to do a bunch of different things" (vs "Everything's just fine, nothing to see here. Just carry on with what you usually do").
Your goal as a leader with the uncertainty mindset is not to insulate employees from uncertainty. Instead, it is to highlight the assumptions, attention frameworks, and interpretations that come with the uncertainty mindset, while giving your employees opportunities to begin adopting them in the course of actual work.
This is radically honest management. Many damaging internal dynamics of teams and organizations arise from bizarre forms of dishonest communication between leaders and employees; training employees to develop the uncertainty mindset may have other unintended benefits.
I'll write more in future issues about what leaders and managers can do to create an uncertainty mindset—but did you notice that these influential forms of speech can be used personally, to adjust your own thinking in the direction of the uncertainty mindset?
🤔
---
A podcast
A few months ago, Patrick O'Shaughnessy from The Investor's Field Guide let me ramble for a long time about quality, unconventional ways to hire, why discomfort can be good, risk vs uncertainty, and other things in a similar vein. The episode went live yesterday and you can hear it here. (Many thanks to Jerry Neumann for introducing me to Patrick.)
---
Stray thoughts
Niches
Going down rabbitholes on the Internet, I sometimes run across forums (remember those from the early days?) that are mostly self-organizing and actively interacting communities generating large repositories of highly specific knowledge. For anyone not in that community, these interactions are often so deeply detailed they seem boring and impenetrable. But they often become essential places to find collections of information that would be available nowhere else.
The extraordinarily variegated nature of these microcommunities is an essential counterweight to the beige homogeneity of nearly all modern "social" media. A small selection:
If you know of other very niche forums, please get in touch (modes of contact at the end of this email). Also: there doesn't seem to be a sneaker forum. Is this a massive opportunity hiding in plain sight?
🤔
#ThisHorribleWorld
Tesla's Cybertruck launched a few weeks ago—and so far has picked up (apparently, accordingly to a cryptic Elon Musk tweet) more than a quarter million reservations. Much of the discourse around the Cybertruck focuses on what a genius marketing strategy Tesla has, but to me it highlights the Horrible World logic of new product development:
Humans instinctively seek certainty and security.

The more uncertain and insecure they perceive the world to be, the stronger their drive for certainty and security.

ergo …

The more Horrible the world or future is perceived to be, the more products and services perceived to provide certainty and security will succeed.
#ThisHorribleWorld partly explains prepper culture, why America loves guns, the appeal of suburbia and gated communities, the growing popularity of mil-spec and ultra-technical clothing, the continuing success of the Chevy Suburban, off-grid living, etc. What will have product appeal will be driven by the specifics of the dystopian imagination. At the moment, I imagine we will see more products that incorporate—for example—high-efficiency water and air purification, urban camouflage, EM-blocker coatings, radiation-proofing, and facial-recognition defeaters.
🤔
The Anatidae 🦆
Happy belated Thanksgiving to you, 🇺🇸 readers.
Thanksgiving seems to incite discussions of extreme cooking activity. One such email thread about turkey and duck cookery reminded me of the week I spent obsessed with figuring out how those glossy, totally rendered Peking roast ducks are made. It's quite complicated, involving eviscerating the duck through a hole under the wing (shades of excerebration), inflation of the skin so the subcutaneous fat separates completely from the flesh, and a long and involved process of air drying—before the roasting even happens. The result is juicy flesh and crisp, nearly completely rendered skin; no other duck preparation comes close.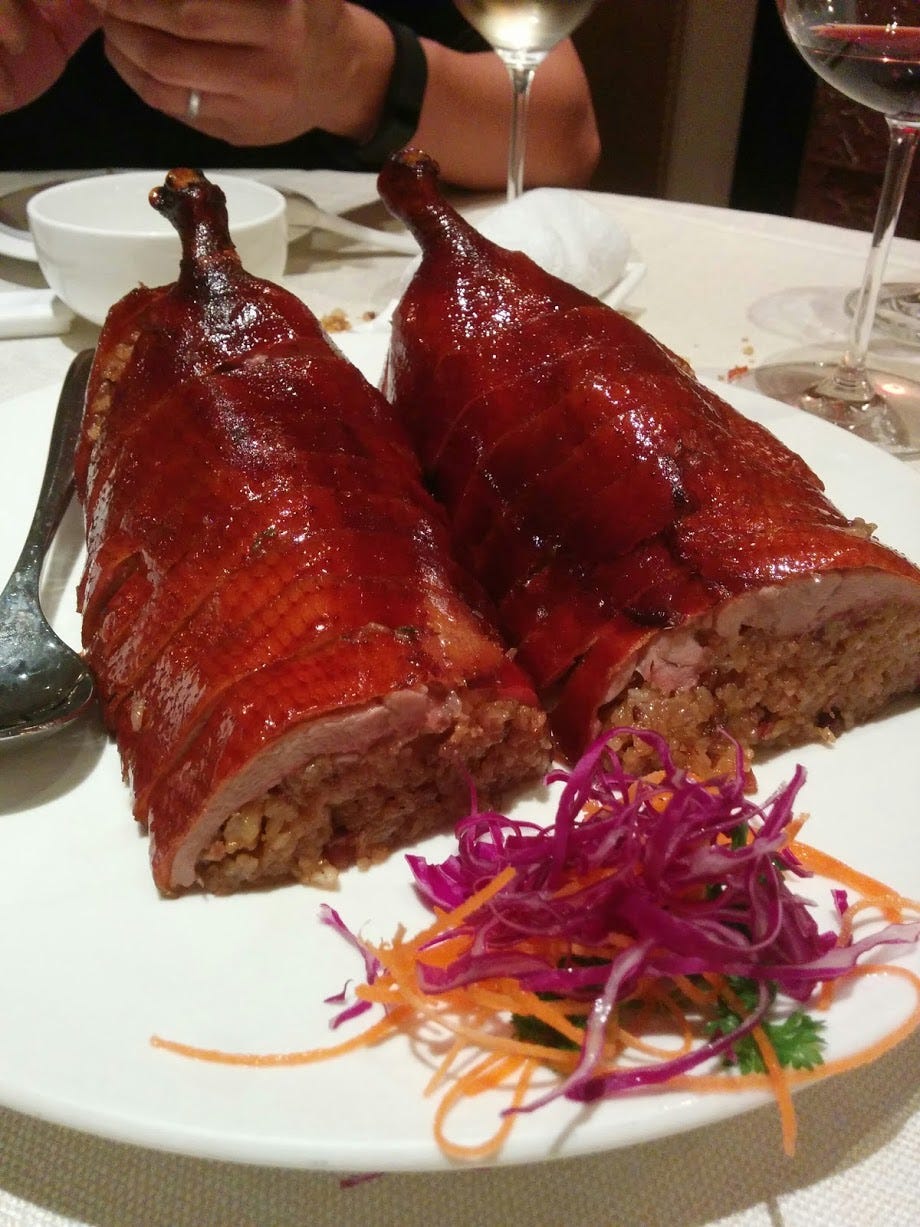 That's a duck roasted approximately in this way but first deboned from within and stuffed with glutinous rice mixed with bits of wax sausage. Observe the thin, nearly totally rendered skin. Absurdly good. (From Imperial Treasure Super Peking Duck, in Singapore.) Remarkably, I have not so far been able to find a complete account in English of the numerous and detailed steps involved in preparing a Peking duck, but here is a magnificent and mesmerizing video (in Mandarin).
Here in London, I joined some old friends for dinner on Wednesday. They cooked a goose which rendered perhaps a quarter of its weight in fat. Unlike the last time I arrived halfway through the cooking of a goose, the house was not wreathed in thick white smoke due to assiduous draining of the rendering fat. I was pressed into helping to spatchcock the bird ahead of a final burnishing under the broiler. The only plausible tool available was a pair of entirely inadequate kitchen scissors. It tasted great anyway.
Geese were and still are used as defensive animals due to their territorial instinct and predilection for attacking even inoffensive people. If you were not under a rock this October, you probably saw/played untitled goose game. The premise is: "It's a lovely morning in the village, and you are a horrible goose." It began as a joke, and has sold over a hundred thousand copies. This suggests that geese strike a chord somewhere deep in our collective psyche. The untitled goose game trailer is well worth watching. Is the British (possibly even European) obsession with eating geese on festive occasions related to atavistic memories of their savagery to humankind?
🤔
---
On loop
Music for reading by a cool-climate ocean: Into the Heart of Love, by Woo. (More about Woo here.)
---
Not unrelated miscellany
---
If you enjoyed this issue and found it useful, please share it with people who might like it too. You can reach me on Twitter @vaughn_tan, Instagram @vaughn.tan, or by email at <uncertaintymindset@vaughntan.org>.